This is my first attempt at this Friday Favorite.....here goes:
My Photo: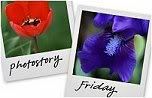 Hosted by Cecily and MamaGeek
Story:
Phipps Conservatory in Pittsburgh
I won't get into my most recent dissatisfaction of these peeps...I will only say, shame on you Phipps, shame on you!
This picture was the first trip I took to "some place" with a group of friends...when i first moved to Pittsburgh. We walked in the cold weather at around 8pm, we saw some really great displays of Nature.....and then we came upon this space......wow. that is all I have to say!